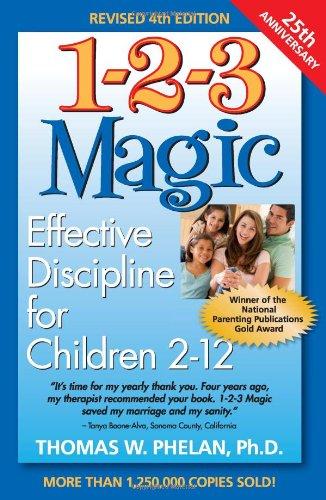 1-2-3 Magic: Effective Discipline for Children 2–12
PRODUCT DETAILS
Author: Thomas W. Phelan
Edition: 4th
Features:
The gold standard of parenting books and a 2016 Family Choice Award winner!
Binding: Paperback
Number Of Pages: 224
Release Date: 01-10-2010
Details: Product Description This revised edition of the award-winning 1-2-3 Magic program addresses the difficult task of child discipline with humor, keen insight, and proven experience. The technique offers a foolproof method of disciplining children ages two through 12 without arguing, yelling, or spanking. By means of three easy-to-follow steps, parents learn to manage troublesome behavior, encourage good behavior, and strengthen the parent-child relationship—avoiding the "Talk-Persuade-Argue-Yell-Hit" syndrome which frustrates so many parents. Ten strategies for building a child's self-esteem and the six types of testing and manipulation a parent can expect from the child are discussed, as well as tips on how to prevent homework arguments, make mealtimes more enjoyable, conduct effective family meetings, and encourage children to start doing their household chores. New advice about kids and technology and new illustrations bring this essential parenting companion completely up-to-date. Review "An excellent, workable, and supportive resource for parents and educators."  — Booklist About the Author Thomas W. Phelan, PhD, is a clinical psychologist and a nationally renowned expert on child discipline and attention deficit disorder. His books include 1-2-3 Magic for Teachers, All About Attention Deficit Disorder, and Surviving Your Adolescents. He lives in Glen Ellyn, Illinois.
Package Dimensions: 9.0 x 6.1 x 1.9 inches
Languages: English
1-2-3 Magic: Effective Discipline for Children 2–12
0

have this item in their cart.
Shipping Time
Custom Print 7-10 Days
Free Shipping
Orders Over $75
Satisfaction Guarantee
Not Happy, Let Us Know. We'll fix it!
Have A Design Idea?
Let us know! We will help it come to life.