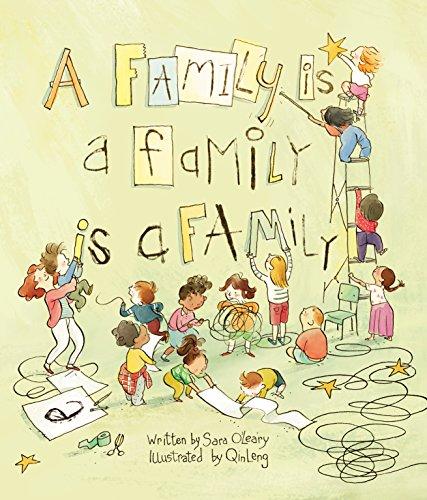 A Family Is a Family Is a Family
PRODUCT DETAILS
Author: Sara O'Leary
Brand: Groundwood Books
Features:
Binding: Hardcover
Format: Picture Book
Number Of Pages: 32
Release Date: 13-09-2016
Details: Product Description When a teacher asks the children in her class to think about what makes their families special, the answers are all different in many ways — but the same in the one way that matters most of all. One child is worried that her family is just too different to explain, but listens as her classmates talk about what makes their families special. One is raised by a grandmother, and another has two dads. One is full of stepsiblings, and another has a new baby. As one by one, her classmates describe who they live with and who loves them — family of every shape, size and every kind of relation — the child realizes that as long as her family is full of caring people, her family is special. A warm and whimsical look at many types of families written by award-winning author Sara O'Leary, A Family is a Family springs to life with quirky and sweet illustrations by Qin Leng. From School Library Journal PreS-Gr 2—A classroom of young children are asked to consider what makes families special. The narrator, a student whose head is hanging low, is nervous about answering, because she feels her family is too different from everyone else's. One by one, the students share, in intricate spreads, what makes their families unique. One student says that her mom and dad keep coming home with more children, another declares that both her moms are terrible singers, another mentions that she lives with her grandmother, and "fair's fair" for a child who stays with her mom one week and her father the next. After listening to all the students, the young narrator recalls a time in the park when her foster mother was asked to point out her real children. Her answer: "Oh, I don't have any imaginary children…. All my children are real." In this warm, nondiscriminating narrative, O'Leary removes limiting definitions and labels like "adopted," "fostered," or "divorced" and instead presents a tale that is innocent and wise. Leng's ink and digitally rendered watercolor illustrations are light and airy and complement the text by capturing the thoughts and purity of a child's perspective. The classroom is a beautiful blend of children of different races, genders, and body types. VERDICT Parents, caregivers, and educators will appreciate the message that this story offers for one-on-one sharing and for discussion with small groups. A sweet and tender tale that shows that families are composed of love regardless of how they may be configured.—Brianne Colombo, Pequannock Township Public Library, NJ Review USBBY's Outstanding International Books ListA Bank Street College of Education Best Children's Book of the Year "The broad diversity of family constellations is refreshing . . . A-plus fabulous." — Kirkus, starred review "Leng's drawings of domestic life are, like O'Leary's writing, winsome but never sentimental. Together they offer a straightforward, optimistic view of everyday modern life." — Publishers Weekly, starred review "A sweet and tender tale that shows that families are composed of love regardless of how they may be configured." — School Library Journal, starred review About the Author SARA O'LEARY is a writer of fiction for adults and children. Her highly acclaimed picture books include A Family Is a Family Is a Family, illustrated by Qin Leng; Owls Are Good at Keeping Secrets, illustrated by Jacob Grant, and The Boy and the Blue Moon, illustrated by Ashley Crowley. She has also written the award-winning series of Henry books and This Is Sadie (adapted for the stage for New York City's Children's Theater), all illustrated by Julie Morstad. A graduate of the UBC Creative Writing Program, she has taught screenwriting and writing for children at Concordia University in Montreal. Qin Leng lives and works as a designer and illustrator in Toronto. She graduated from the Mel Hoppenheim School of Cinema and has received many awards for her animated short films and artwork. Hana Hashimoto, Sixth Violin, written by Chier
Package Dimensions: 10.3 x 9.0 x 0.5 inches
Languages: English
A Family Is a Family Is a Family
0

have this item in their cart.
Shipping Time
Custom Print 7-10 Days
Free Shipping
Orders Over $75
Satisfaction Guarantee
Not Happy, Let Us Know. We'll fix it!
Have A Design Idea?
Let us know! We will help it come to life.