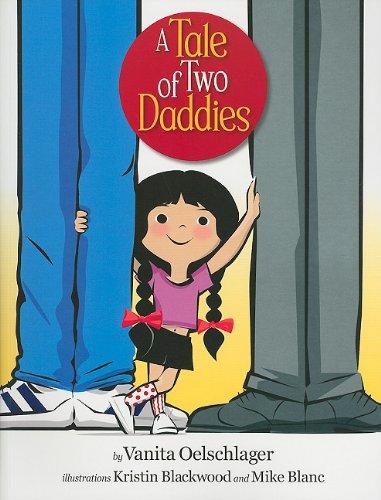 A Tale of Two Daddies
PRODUCT DETAILS
Author: Oelschlager, Vanita
Brand: Vanita Books
Edition: Illustrated
Binding: Paperback
Format: Illustrated
Number Of Pages: 42
Release Date: 01-04-2010
Details: Product Description A Tale of Two Daddies is a playground conversation between two children. The boy says he heard that the girl has two dads. The girl says that is right--she has Daddy and Poppa. True to a child's curiosity, practical questions follow: "Which dad helps when your team needs a coach? / Which dad cooks you eggs and toast?" To which she answers: "Daddy is my soccer coach. / Poppa cooks me eggs and toast." This picture book is intended for 4- to 8-year olds, and introduces a type of family increasingly visible in modern society and reflects a child's practical and innocent look at the adults who nurture and love her. It becomes clear that the family's loving bond is unburdened by any cultural discomforts. About the Author Vanita Oelschlager is a wife, mother, grandmother, philanthropist, former teacher, current caregiver, author, and poet. She is a graduate of Mt. Union College in Alliance, Ohio, where she has served as a Trustee. Vanita is also Writer In Residence for the Literacy Program at The University of Akron. Her first book, My Grampy Can't Walk, was widely praised. It's an uplifting story about the wonderful relationship between her husband Jim, who has multiple sclerosis, and their grandchildren. She is also the author of My Two Mommies. Kristin Blackwood is an experienced illustrator whose other VanitaBooks include: My Grampy Can't Walk, Let Me Bee, Big Blue, Made In China and What Pet Will I Get?
Package Dimensions: 10.8 x 8.3 x 0.3 inches
Languages: English
A Tale of Two Daddies
0

have this item in their cart.
Shipping Time
Custom Print 7-10 Days
Free Shipping
Orders Over $75
Satisfaction Guarantee
Not Happy, Let Us Know. We'll fix it!
Have A Design Idea?
Let us know! We will help it come to life.