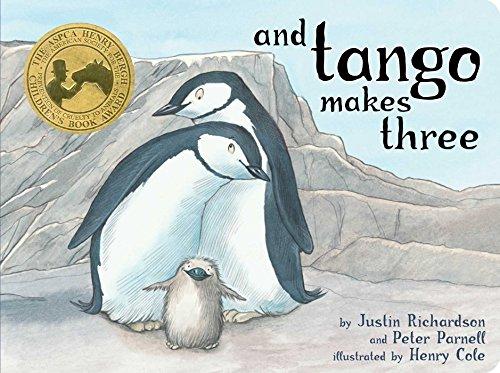 And Tango Makes Three (Classic Board Books)
PRODUCT DETAILS
Author: Richardson, Justin
Brand: Little Simon
Edition: Not for Online
Features:
Binding: Board book
Format: Illustrated
Number Of Pages: 36
Release Date: 02-06-2015
Details: Product Description The heartwarming true story of two penguins who create a nontraditional family is now available in a sturdy board book edition. At the penguin house at the Central Park Zoo, two penguins named Roy and Silo were a little bit different from the others. But their desire for a family was the same. And with the help of a kindly zookeeper, Roy and Silo got the chance to welcome a baby penguin of their very own. In time for the tenth anniversary of And Tango Makes Three, this Classic Board Book edition is the perfect size for small hands. From School Library Journal Toddler/PreS—It's been a decade since Richardson, Parnell, and Cole told the true story of Roy and Silo, two male penguins at the Central Park Zoo who became inseparable. When zookeepers gave the pair a motherless egg, they successfully hatched baby Tango. Commemorating the book's 10-year anniversary, this edition gives even younger readers the opportunity to enjoy this pioneering picture book, which was among the first to offer an example of a same-sex family. About the Author Justin Richardson, MD, is the coauthor, with Peter Parnell, of the award-winning picture book  And Tango Makes Three. Dr. Richardson is an assistant professor of psychiatry at Columbia and Cornell and the coauthor of Everything You Never Wanted Your Kids to Know About Sex (But Were Afraid They'd Ask). Dr. Richardson and his advice have been featured in The New York Times and The Washington Post, on the Today show and NPR's Morning Edition, and in numerous magazines. Dr. Richardson lectures to parents and teachers on parenting and the sexual development of children. Peter Parnell is the coauthor, with Justin Richardson, of And Tango Makes Three. He is a playwright whose plays have been produced at the Public Theater and Playwrights Horizons in New York City, the Mark Taper Forum in Los Angeles, and the Seattle Repertory Company, among others. His play QED was produced on Broadway. He has written extensively for television as a producer for both The West Wing and The Guardian; he has also written episodes of Maurice Sendak's series Little Bear. He lives in New York City. Henry Cole has written and illustrated more than 150 books for children, including  Spot, the Cat;  And Tango Makes Three;  Oink?; and  Little Bo in France. He is also the illustrator of With a Little Help from My Friends by John Lennon and Paul McCartney. A former elementary school teacher, he now writes and paints full time.
Package Dimensions: 7.3 x 5.5 x 0.9 inches
Languages: English
And Tango Makes Three (Classic Board Books)
0

have this item in their cart.
Shipping Time
Custom Print 7-10 Days
Free Shipping
Orders Over $75
Satisfaction Guarantee
Not Happy, Let Us Know. We'll fix it!
Have A Design Idea?
Let us know! We will help it come to life.