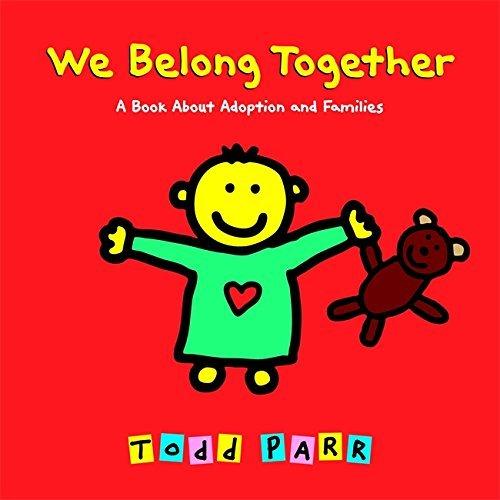 We Belong Together: A Book About Adoption and Families
PRODUCT DETAILS
Author: Parr, Todd
Brand: Little, Brown Books for Young Readers
Edition: Illustrated
Features:
Binding: Hardcover
Format: Picture Book
Number Of Pages: 32
Release Date: 01-11-2007
Details: Product Description In a kid-friendly, accessible way, this book explores the ways that people can choose to come together to make a family by showing one perspective on the adoption experience. We Belong Together is about sharing your home and sharing your heart to make a family that belongs together. With an understanding of how personal and unique each adoption is, and that not everyone comes to it in the same way, Todd Parr's colorful art explores the meaning of family. From Booklist Popular author-illustrator Parr illustrates the rewards of family ties in this heartfelt, supportive book geared toward adopted children and their parents. In each double-page spread, Parr completes the phrase "We belong together because . . ." with poignant explanations that touch upon basic, tangible needs ("You needed a home . . . and I had one to share") as well as emotional ones: "You needed someone to say 'I love you' . . . and we had love to give. Now we all have someone to kiss goodnight." As in Parr's The Family Book (2003), cheerful, friendly artwork, with thickly outlined forms and characters and a bold rainbow palette, inclusively depicts an array of children and families—including one with a single parent and one with two dads—and emphasizes the rewards of adoption for adults and children alike. Apart from the subtitle, the text never uses the word adoption nor refers to the adoption process, keeping the focus squarely on the universal joys of sharing hearth and heart. Rosenfeld, Shelle About the Author Todd Parr has inspired and empowered children around the world with his bold images and positive messages. He is the bestselling author of more than forty books, including The Goodbye Book, The Family Book, The I Love You Book, and It's Okay to be Different. He lives in Berkeley, California.
Package Dimensions: 9.9 x 9.8 x 0.4 inches
Languages: English
We Belong Together: A Book About Adoption and Families
0

have this item in their cart.
Shipping Time
Custom Print 7-10 Days
Free Shipping
Orders Over $75
Satisfaction Guarantee
Not Happy, Let Us Know. We'll fix it!
Have A Design Idea?
Let us know! We will help it come to life.